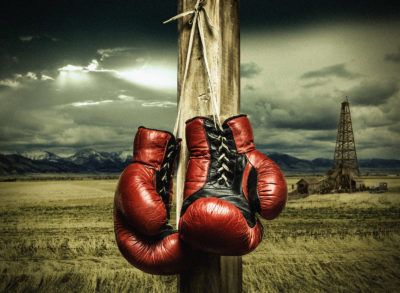 The 1920s were a heady time for the United States. The economic windfall of booming industry seemed to have made every corner of the country flush, the radio carried popular entertainment into every home, and professional athletics were becoming the pastime of rich and poor alike. It was a time when anyone with a bit of pluck, perseverance, and lots of spare cash could make the extraordinary happen in the most unlikely of places.
Nowhere was that more evident than in the town of Shelby, Montana, a sleepy railroad junction and herding station just 40 miles south of the Canadian border. A newly rich town with a wide-open future and a blossoming population, Shelby was home to one James "Body" Johnson Jr., an ambitious, if whimsical, local real estate operator and son of Mayor Jim Johnson Sr. The junior Johnson had visions of Shelby as a destination for out-of-state tourists, cross-border travelers from Alberta, and oil-rich locals alike. The way he saw it, Shelby had the oil, the railroad, and the money needed to transform the town into the glittering gem on the northern plains. All he needed was a way to make the world take notice–and for a moment, the world did.
---
This entry originally appeared at feedproxy.google.com/~r/damninteresting/all/~3/80jStrHBPlE, and may be a summary or abridged version.