Renee (la.shambhala.org); Ananda (Dharma Meditation), Dhr. Seven (eds.), Wisdom Quarterly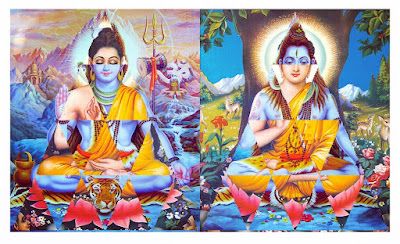 Sunday Gathering: A Global Celebration, Harvest of Peace
Shambhala LA at Neighborhood UU Church, 301 N. Orange Grove Bl., Pasadena, California 91103
Teacher: Touching the Earth Collective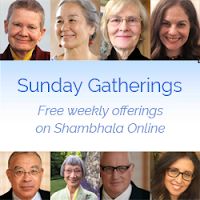 Now in person post-pandemic (la.shambhala.org)
All are warmly invited to join this special day for a
lhasang
and other vibrant offerings: some simple, some hugely elaborate, a family song, a food feast -- all gestures of the heart. Gather for a "homecoming" welcoming all! Celebrate as summer wanes and autumn yields peaches or, in the other hemisphere, as winter wanes and spring shows her vibrant leaves, all in appreciation of a planetary moment of change in the natural world. Shambhala will share special Harvest of Peace greetings with the local community.
More
Wish I also to be in Pasadena, but Sakyong so controversial like Shugden (dalailama.com)
Sunday morning online meditation practice 9:00–11:45 am
Sunday Global Online Gathering 12:00–1:00 pm (PT)

Harvest of Peace

is a special Shambhala Community celebration of the Fall Equinox -- harvesting in the northern hemisphere and planting in the southern.
This time is associated with the
Ratna
/Earth energy of nourishing, supporting, and enriching. It is a time to contemplate what nourishes us personally and as a community. Balancing home, work, social, and spiritual lives can be very demanding, so we can take some time to examine and re-seed our relationship with generosity and abundance, which strengthens and sustains us throughout the year. It's a time of encouragement, raising each other's energy, and rousing excitement for the year to come.

Members and friends are invited to reconnect with the Shambhala community. Newcomers are welcome to see what it's all about! We will be following all CDC recommendations and local regulations regarding in-person gathering, including social distancing and masking. Refreshments will be scaled back this year given the current circumstances, so bring food. We will provide some packaged snacks. Please bring your own drinks and any food you'd like for your own consumption. No alcohol permitted. There are picnic tables in the beautiful outdoor space under the giant redwoods.
3:00 to 4:00 pm - Lhasang and community practice
4:00 to 5:00 pm - State of the center address, appreciations
5:00 to 7:00 pm - Prayer Flag making for all ages and socially distanced Social!
TEACHER: The Touching the Earth Collective is a group of Shambhalians who see the need for an urgent response to human-caused environmental degradation and climate change. Touching the Earth warriors invite individual and collective action for the rebalancing, protection, and celebration of a healthy, living world. Learn more at shambhalaonline.org/touching-the-earth-landing-page
Price $10 but no on turned away for lack of funds. Please call (323) 963-3001 to register based on what you can afford. At the same time, the Center relies on program revenue to cover costs. For those who are able to pay more than the program price, your generosity in paying the "Patron Price" (when available) helps cover the costs for others who are not able to pay the full price, and it provides additional support to the Shambhala Center of Los Angeles.
Los Angeles Meditation Center: 
Since 1971 Shambhala Meditation Center of Los Angeles has offered a rich array of ongoing meditation programs free to the public. No prior meditation experience required to attend.
---
This entry originally appeared at feedproxy.google.com/~r/WisdomQuarterlyAmericanBuddhistJournal/~3/a7vw4ALPCoA/in-person-global-celebration-harvest-of.html, and may be a summary or abridged version.