California recall 'is all about money' says former Gov. Jerry Brown

(
MSNBC
, Sept. 10, 2021) With the California recall election just days away, there are some encouraging signs for
hated Governor Gavin Newsom
.
smiles and never frowns/Soon I will be president...I will be 
Führer
 one day
(Fox News) Love for Larry Elder as he visits LA and gets pelted with egg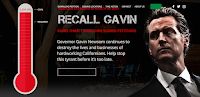 Former California Gov. Jerry Brown joins Joy Reid on the nature of recall elections and why Brown believes the Black GOP (Republican) frontrunner
Larry Elder
 (a longtime right-wing radio host) must be defeated, all while ignoring the other 40 or so contenders vying for the position should Newson be thrown out.
MSNBC
---
This entry originally appeared at feedproxy.google.com/~r/WisdomQuarterlyAmericanBuddhistJournal/~3/BnC9fKFcm6U/money-rules-recall-ca-gov-newsom-video.html, and may be a summary or abridged version.