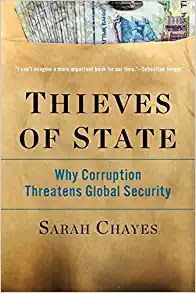 The world is blowing up. Every day a new blaze seems to ignite: the bloody implosion of Iraq and Syria, in the Middle East; the East-West standoff in Ukraine, Russia; abducted schoolgirls in Nigeria, Africa.
Is there some thread tying these frightening international security crises together?
In a riveting account that weaves history with fast-moving reportage and insider accounts from the US War on Afghanistan, Sarah Chayes identifies the unexpected link:
CORRUPTION 
["
legalized bribery
"].
"I can't imagine a more important book for our time." ―Sebastian Junger
Since the late 1990s,
corruption has reached such an extent that some governments resemble glorified criminal gangs
, bent solely on their own enrichment.
These "
kleptocrats
" (kleptomaniacal bureaucrats) drive indignant populations to extremes ― ranging from revolution to militant puritanical religion.
Chayes plunges readers into some of the most venal environments on earth and examines what emerges:
Afghans returning to the Taliban
, Egyptians overthrowing the Mubarak government (but also redesigning
Al-Qaeda
), and Nigerians embracing both radical evangelical Christianity and the Islamist terror group Boko Haram.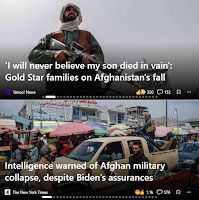 Afghanistan in the news overkill: msn.com
In many such places,
rigid moral codes
are put forth as an antidote to
the collapse of public integrity
.
The pattern, moreover, pervades history. Through deep archival research, Chayes reveals that canonical political thinkers such as
John Locke
and
Machiavelli
, as well as the great medieval Islamic statesman
Nizam al-Mulk
, all
named corruption as a threat to the realm
.
And it makes a compelling case that
we must confront official US corruption
, for it is a cause ― not a result ― of global instability.
This book is the winner of the 2015
Los Angeles Times
Book Prize for Current Interest.
More
---
This entry originally appeared at feedproxy.google.com/~r/WisdomQuarterlyAmericanBuddhistJournal/~3/5W-zMQvm27A/thieves-of-state-us-corruption-in.html, and may be a summary or abridged version.